Ekaterina, 29 y.o.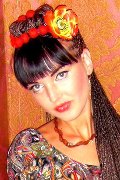 First Name:

Ekaterina

Age:

29

Location:

Ukraine

Zodiac Sign:

Pisces

Weight:

52kg

Height:

170cm

Eye colour:

Green

Hair colour:

Light Brown

Body type:

slender

On your body there are:

Tattoos, Freckles

Smoking Frequency:

Never

Drinking Frequency:

Occasionally(Socially)

Sleeping habits:

I like to get up late
Do you have children?:

1 child>

9 y.o. girl, living at home

Language:

Russian 5 (Fluent)
Ukrainian 4 (Advanced)
English 1(Basic)

Marital status:

Divorced

Want children:

Undecided

Do you agree to move ?:

I agree to move to another country

Your priorities in life:

Family, long-term relationship
Welfare/well-being
Balance of mind
Health

Your income:

Constant small income

Where do you live?:

Separate house/ cottage

What do you think about travelling and meeting expenses:

I am not ready to pay

Education:

Some college

Job Title:

Computer Related

What religion do you practice?:

Christian
Ideally I would like to live in a:

cottage in the country

Keep my space:

It's not perfect but close

Describe myself at a party as a:

Run-of-the-mill mingler

When it comes to money:

I spend some and I save some

When it comes to TV:

Turn to a lifestyle channel

Do I enjoy dining out?:

I like it a lot

How often do I like to go out?:

3-4 times a week

Do I enjoy cooking?:

I like cooking

Do I enjoy other types of Shopping?:

I love it

Do I enjoy grocery shopping?:

I like it very much

Do I enjoy gardening?:

Don't mind helping

Preference for pets:

I have Dogs, Don't have but like Fish, Cats
Age:

35 - 47

Weight:

77.18 - 97.61 kg

Height:

173 - 185 cm

Eye colour:

Any
Hair colour:

Black, Light Brown, Dark Brown, Salt and pepper gray

Is it okay if they have children?:

Yes but living separately

Body type:

Average, Muscular

Smokes:

Occasionally

Drinks:

Occasionally(Socially)

Ethnic Preference:

White/Caucasian
What type of Television programs do I enjoy watching most?:

Cartoons, Comedy, Educational, Nature/wildlife, News, Soaps

I enjoy spending free time:

Browsing the Internet, Dancing in night clubs, In Nature, Taking a walk, Watching TV or a movie, Pursuing a hobby, Catching up on household chores, Puttering in the garden, Shopping, With family

Activities that I enjoy:

Walking, Swimming, Jogging/running, Dancing, Camping, Biking

Sports that I enjoy watching and/or playing:

Figure skating, Extreme sports, Diving

Forms of entertainment that I enjoy:

Wine tasting, TV Entertainment, TV Educational/news, Surfing the web, Reading, Movies, Fine dining, Fashion events, Dinner parties, Dance clubs, Concerts

Other hobbies or interests:

Travelling, shopping, home improvement, gourmet cooking, family/kids, dogs, astrology
How would you describe yourself?

По характеру спокойная, трудолюбивая, ответственная хорошая и заботливая мама.

How often, and from whom do you ask advice?

С родителями.

What quality do you value most in the opposite sex?

Внимательный и любящий

Do you have a lot of friends?

Нет немного.

What qualities do you dislike most in the people of the opposite sex?

Жадность.

What is your favourite food?

Здоровая еда.